Description
This XXL King Size Pig Lamb Rotisserie is created and made by real fans and connoisseurs of traditional meat roasting on a spit. Enjoy watching your baking become golden brown, turning over a fire. Superior taste at the end is guaranteed.
Spit consists of two parts made of stainless steel (INOX). Length of composed spit is ~75.5 in. Diameter is 1.3″
Three stainless steel hooks used for fixing meat are placed on spit. This solid Spit Roaster was tested with 125 lb of cargo.
Because of all this spit is usable in your backyard, at the beach, for the picnic, or anywhere else.
Mounting handle is used to rotate the larger weight; it can be easily removed when cooking becomes easier so that you can turn on the engine.
Two tripods can be easily removed so that they take up little space in your garage. They are equipped with massive bearings for more easier rotate.
Height is adjustable between 5″ and 35″.
For best results, we recommend that you light a fire on the side of the dry beech.
Pig Roaster and motor are manufactured in Europe according to quality standards.
SEE OUR VIDEOS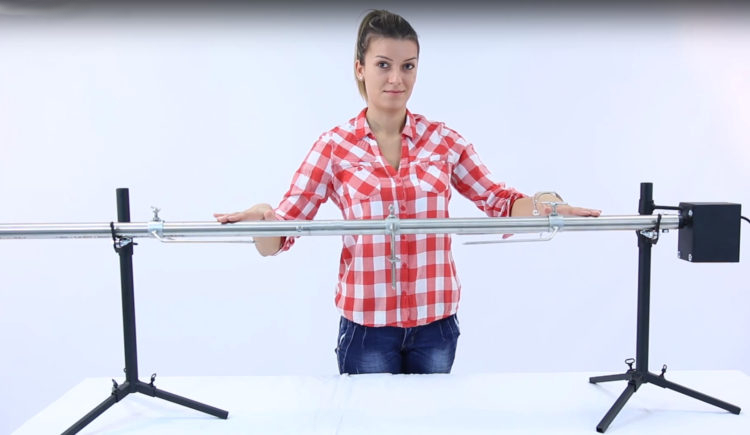 THE PACKAGE CONTAINS
1. Spit 75.5″ x 1.3″
2. 2 + 1 meat fixing hoks
3. Two tripods max. 35″
4. Two skewer carriers
5. Handle for turning
6. Instructions
7. Motor for USA, Canada – 110 Volt, 40 W, 2.6 RPM – up to 125 lb
8. Extension cable
9. Housing and lid for the engine
10. Connector for the spit to the motor
11. Connectors for tripods
12. Small materials
* Without X-Forks and Firebox
Total Weight of shipment: 22 lb approx
IMPORTANT INFORMATION
We do ship to most countries around the world. Please, ask us.
Because of the lowest cost of delivery Rotisserie is delivered completely disassembled. Tracking number is certainly included. For installation and completion according to the attached instructions for handling it takes about 20 minutes.
Installaton of the engine is allowed only to persons with electrical knowledge and experience.
Contact the nearest electricians. Of course, we are at your service for advice if something is not clear.
EXPERIENCES
[ninja_form id=1]