Various suppliers from different countries offer spit roasters for roasting pigs, but the quality of these products varies. In this text, we will compare several brands of spit roasters to see the differences
Pigoutroasters.com – An American brand that offers high-end commercial spit roasters for roasting pigs. However, the high prices of these products and their mainly commercial use may be a barrier for customers who do not want to engage in commercial catering or similar activities.
Charotis.com and spitjack.com – They sell spit roasters and equipment that we cannot confirm are not produced in China. On Chinese wholesale websites (also on eBay and Amazon), we can find products of similar, even the same appearance.
Chinese products can be recognized by their very low price, mostly gray color, white or fake backgrounds. The spit is usually extremely short and small in diameter, some would even say unusable. Most spit roasters produced in China are characterized by an X-shaped foot on the ground.
R-grill.com – We deliver premium original European products of massive European quality. R-grill probably offers the longest spit on the market, with optimal speed and motor strength for home and professional use. Don't forget that we offer useful additional equipment for purchase. The downside of our offer is a delivery time that is a few days longer because our spit is shipped directly from Germany to your address.
In summary, the quality of products differs from supplier to supplier. Pigoutroasters.com offers extremely high-quality products, but high prices and mainly commercial use may be a barrier. Charotis.com and spitjack.com can be a alternative, but we cannot confirm that they are not cheaply produced in China.
R-grill.com offers massive products with the longest spit on the market and optimal speed and motor strength, but the delivery time is slightly longer compared to previous suppliers.
It is important to choose a product that will meet your needs.
Please, compare the pictures because we have acquired a Chinese product. Specifically, compare the thickness of the welding on the R-grill meat forks with the very thin weld on the Chinese product.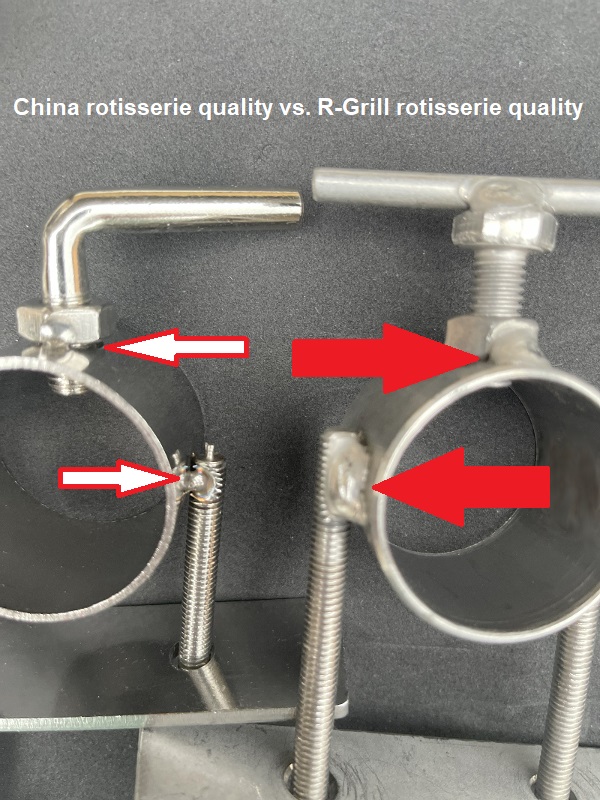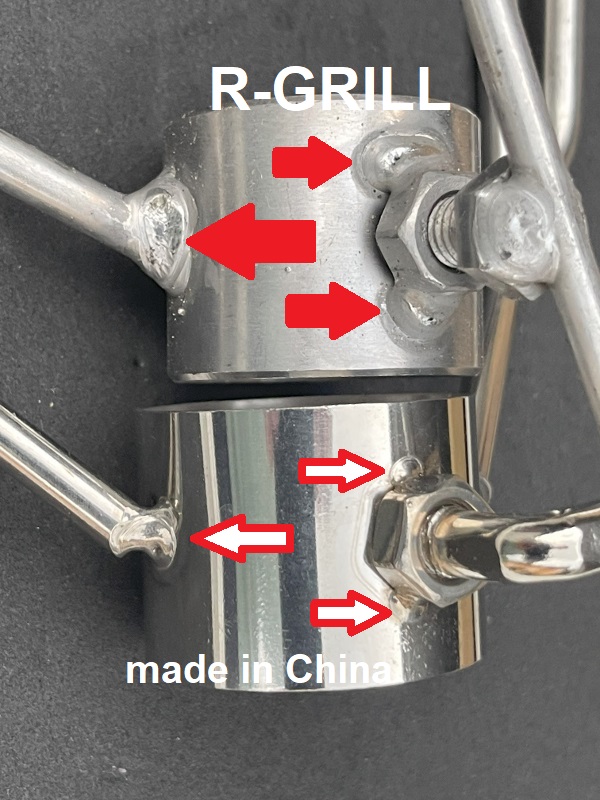 In the end, here are a few shots from our production plant
UPDATE JUNI 2023
Here we have a small update with a few links because a few people reminded us through their comments of how different we are from the competition.
https://www.instagram.com/rgrill_bbq/
https://www.instagram.com/rgrill_usa_canada
The following links display pictures of a rotisserie that is most likely made in China. It is not our product! Is it a poor copy or not – decide for yourself…
https://m.media-amazon.com/images/I/E1Z5+0aeb7S.jpg
https://m.media-amazon.com/images/I/513muzJOKBL.jpg
https://m.media-amazon.com/images/I/71vhpFYvOYL.jpg
https://images-na.ssl-images-amazon.com/images/I/E1itVfS11dS._SL1600_.jpg
https://www.amazon.de/review/R1ENAGBIGH4W6M/ref=cm_cr_srp_d_rdp_perm?ie=UTF8&ASIN=B07P5JCJN6
You can see that everything has cracked, the motor doesn't turn even though it looks nice and shiny in the sun.
Test and try to break our motor bracket from the tripod with your bare hands. You won't be able to because it was made to last.
It's not overly important for our products to look nice in pictures and videos on Instagram, Facebook, and the website. What matters is durability and proper functionality! For us, that's premium!
Our primary mission is to ensure that ugly things like these in the pictures, which ultimately ruin the fun, do not happen to our customers.
In this last picture, you can even see rust on the part that comes into contact with food :/
https://m.media-amazon.com/images/I/71ZeX725yLL.jpg
Lastly, we want to say that we can always do better. That's why from this moment on, we are offering you a special discount. To find out the discount amount, simply click "ADD TO CART"
Thanks!