The Rotisserie Spit Rod is an essential component of any roaster setup, and the R-Grill Rotisserie Spit Rod is the ultimate tool for achieving juicy, evenly cooked meat every time. Its length of 75" and diameter of 1.3" make it ideal for accommodating larger cuts of meat without bending or warping, while its high-quality stainless steel construction ensures durability and resistance to rust and corrosion.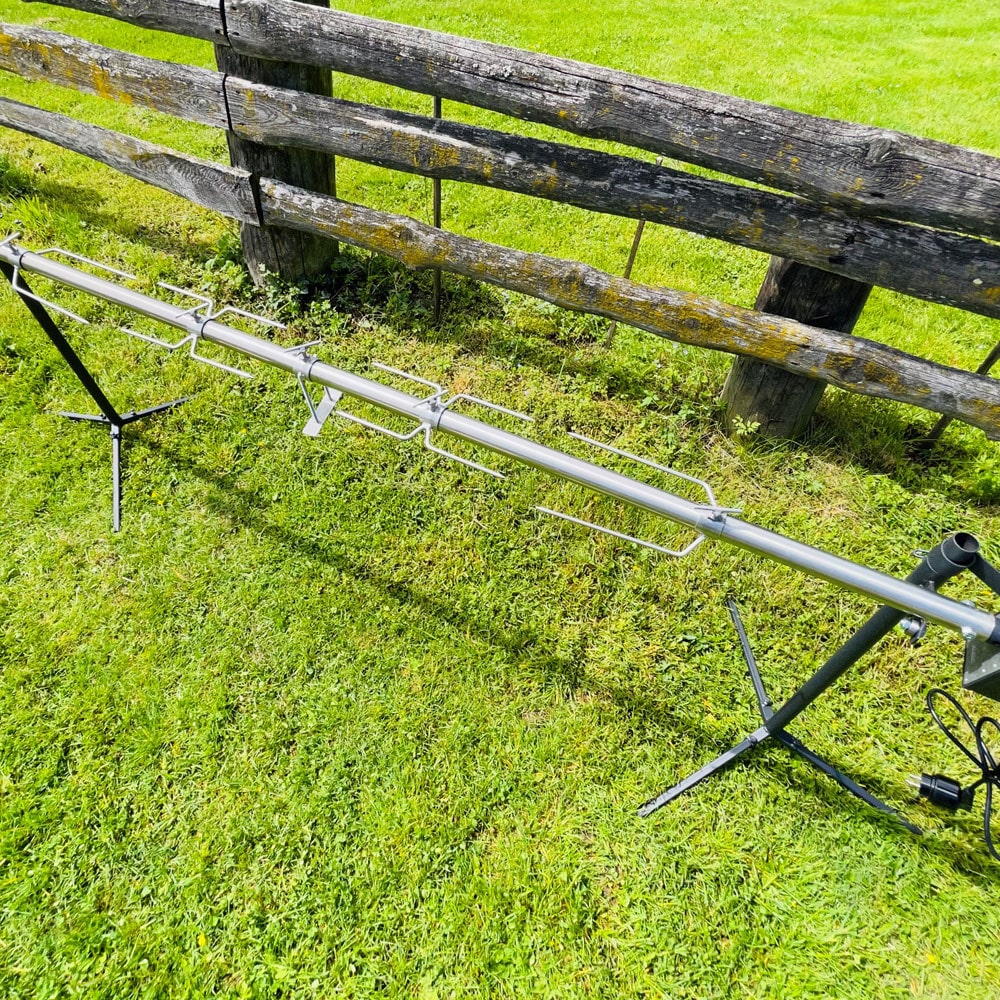 Length and Diameter
The R-Grill Rotisserie Spit Rod has a length of 75", which makes it suitable for most grills and smokers. Its diameter of 1.3" ensures that it can accommodate larger cuts of meat, such as roasts or whole chickens, without bending or warping under the weight.
Sturdy Construction
The R-Grill Rotisserie Spit Rod is made from high-quality stainless steel, which ensures its durability and longevity. This material is also resistant to rust and corrosion, making it ideal for use in outdoor cooking environments.
Three Pronged Forks with Fixation Option
The rotisserie spit rod comes with three pronged forks that can be used to securely hold the meat in place while it rotates over the heat source. The forks are designed to pierce the meat and keep it from slipping or rotating on the spit. Additionally, each fork has a fixation option, allowing you to adjust the distance between them for different cuts of meat.
Two Additional Forks for Chicken
If you love cooking chicken on your rotisserie, then you'll be happy to know that the R-Grill Rotisserie Spit Rod comes with the option to purchase two additional forks specifically designed for chicken. These forks are smaller and more narrow than the standard forks, and are X-shaped which makes them perfect for securing a whole chicken or smaller cuts of poultry.
Rotisserie Setup
But the R-Grill Roaster Spit Rod is just one component of the larger rotisserie setup. If you're in the market for a complete rotisserie setup for whole pig, hog, lamb, or chicken roast, look no further than r-grill.com.
And here's some exciting news: we're offering free shipping from Germany to the United States and Canada on all of our rotisserie models. So not only can you get the ultimate roaster setup with the R-Grill Rotisserie Spit Rod, but you can also enjoy the convenience of free shipping.
Conclusion
Don't wait any longer to take your outdoor cooking gatherings to the high-class level. Visit r-grill.com today to browse our selection of rotisserie models and purchase the complete setup that's right for you.